Today I am going to post a thank you card I made last night, but first a big shout-out to the readers of the Eisy Morgan blog! We were featured this week for the
Mary Poppins Mantel
! So thank you for reading, and welcome, Eisy Morgan readers!!! If you haven't stopped by her blog, you should! She always has the cutest projects that ANYONE can do, and she has the most supportive blog community that I've seen in the blogosphere!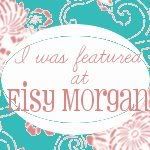 And now for another quick card creation! This time: a thank-you note! I should mention that this was to thank a professor who acted as a "judge" for the mock trial put on by the 5th graders I team teach once a week in my law school's Outreach for Legal Literacy program. Cool, huh? (And they were awesome--future attorneys in the making!)
I used a pack of scrapbooking paper and stickers (bought on clearance), and some chipboard sticker letters. All I needed for this project was scissors, a glue stick, and a little creativity. It only took about 15 minutes, and it sure beats some generic thank you card from the store.